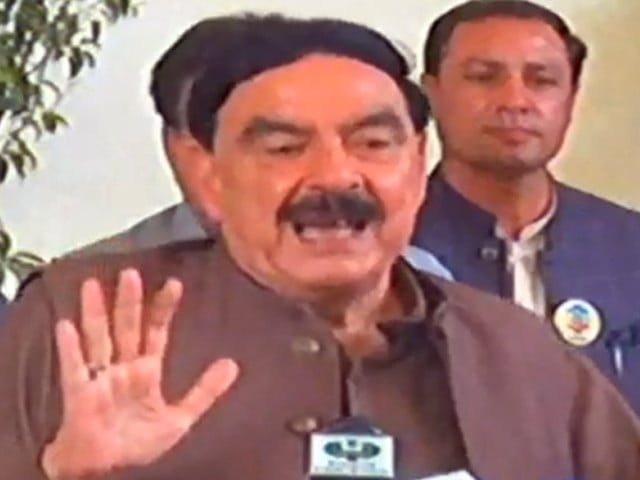 ---
Federal Minister for Interior Sheikh Rashid Ahmed has said that he had suggested Prime Minister Imran Khan impose governor's rule in Sindh.
"Horse-trading is being carried out openly… the Sindh House has been exposed," Rashid said while speaking to the media in Islamabad on Thursday.
"On February 25, 2009, on the recommendation of the then prime minister Yousuf Raza Gilani, then president Asif Ali Zardari under Article 237 of the Constitution imposed a governor rule in Punjab against the government of Shehbaz Sharif. The governor rule has been imposed in Sindh province for three times until now," Rashid said in a tweet.
He went on to say that there is no other option than imposing governor rule in Sindh because the "Sindh government is openly violating the Constitution through horse-trading".
"Blackmailers and vote-sellers no longer deserve any leniency. Prime Minister Imran Khan will have to impose the governor rule," he added.
His statement comes after PTI dissident lawmaker Raja Riaz confirmed that as many as 24 ruling PTI MNAs are staying at the Sindh House in Islamabad due to "security concerns".
He also rejected the reports that the federal government is planning to conduct a raid on the Sindh House.
Later, Federal Planning Minister Asad Umar said that come what may Prime Minister Imran Khan will not be "blackmailed by anyone".
"We will take all actions in line with law and Constitution," he said while referring to the dissident PTI lawmakers staying at the Sindh House.
"We [government] have billions of rupees and can buy the loyalties of their [opposition] lawmakers but we will not stoop to his level and give ministries to anyone to seek their support," Energy Minister Hammad Azhar said who along with Information Minister Fawad Chaudhry was also present at the occasion.
"Whatever is happening in the Sindh House is not the voice of conscience but a voice of money," he added.
Hammad said the "dirty tactics" of the opposition's politics has been exposed badly.
While responding to a question, Umar said that the option of imposing the governor's rule in Sindh is not deliberated upon by the ruling party members.
"However, the actions of the Sindh government are a flagrant violation of the Constitution and we could have retaliated but we exercised restraint.
Speaking on the occasion, Fawad confirmed the development saying that Rashid as an ally of the PTI-led coalition government floated an idea of imposing the governor's rule in Sindh.
"The option is on the table but we have not yet held a consultation on his [Rashid] suggestion," he added.
Umar said the government is also in talks with opposition lawmakers to seek their support to foil the no-trust move. "But unlike them [opposition], we will not use money."
Fawad went on to say that the culture of horse-trading in politics was "introduced" by PML-N supremo Nawaz Sharif and former president Asif Ali Zardari.
"This type of politics is a model of Nawaz and Zardari who used the money to make and break governments… but we will not use such tactics and make any compromise on our principles to save our government," he added.
He also lashed out at dissident PTI lawmakers saying "shameless MNAs should step down and contest elections independently".
Earlier in the day while addressing a press conference in the federal capital, Rashid claimed that "some individuals" are present inside the Sindh House and that people are engaging in horse-trading there.
"Those who make money by selling their conscience will not be successful," he said, adding, "Honest people stand together in difficult times. The umpires are neutral and the MNAs will decide whether to vote for or against the no-trust motion".
The minister expressed his confidence in Prime Minister Imran Khan's success; "win or lose, I will stand with him", he added.
'Assault' on Sindh House
Moreover, the Pakistan Peoples Party alleged that the PTI-led government is planning an 'assault' on Sindh House in Islamabad, a day after PM Imran said the opposition is present at the premises with 'bags full of money' to 'buy loyalties of government lawmakers'.
The accusations were made in a joint statement by PPP MNAs Abdul Qadir Patel, Abdul Qadir Mandokhel, Abid Hussain Bhayo, Javed Shah Jilani, Ehsan Mazari, Naveed Dero and Mehreen Bhutto.
"After the brutal incident of Parliament Lodges, the government is now preparing to attack the Sindh House," the statement read, adding that Premier Imran's government is bent on 'carrying out terrorism'.
Intensifying speculation and giving no definite answer, PML-Q leader Pervez Elahi earlier confirmed horse-trading by the opposition, saying that around 10-12 government lawmakers were in the "safe custody" of the opposition.